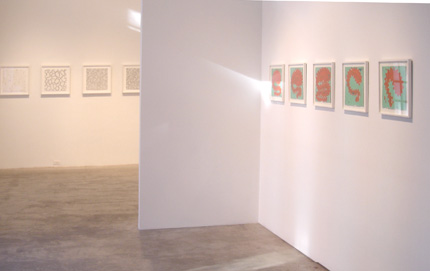 December 16 - February 04, 2006
Series...
FOR IMMEDIATE RELEASE
December 14, 2005
Gallery Joe continues the season with another large group show. Series… opens on Friday, December 16 and runs through Saturday, February 4. Please contact the gallery during Christmas week as hours may vary. All nine artists in this exhibition are with the gallery, though several are showing for the first time. There will be a reception on First Friday, January 6 from 6:30 to 8:30.
Webster defines a series as "1. a group of usu. three or more things or events standing or succeeding in order and having a like relationship to each other. …" Almost always a series invites comparison between or among the items in the series. And, taken as a whole, the series is more than the sum of its parts. Several of the works in the show are composed of all of the drawing in a finite series, while others are selections from an ongoing series.
Astrid Bowlby will show six etchings completed this year. Printed with Cindi Ettinger in Philadelphia, all six works are from the same plate, each state becoming more complex until the final work is so dense as to be completely black. Known for her meticulous work, Bowlby reveals her all-over process in the development of the drawing in this series. However, unlike a single drawing, each state is complete in itself.
Annabel Daou will show a group of over 120 works called "dirty little drawings". Taped directly to the wall, each fragment is composed of a single word and the drawing it provokes. Daou is exploring the multi-referential potential of language and the suggestive and furtive quality of drawing itself. This wall-size work is an ambitious catalogue of language bits that are themselves a series. Daou had her first solo show at Gallery Joe last spring. She lives and works in NY.
Douglas Florian's drawings comprise the ongoing series, Sefer Shel Or: The Book of light. The series or book currently numbers more than 1500 drawings. Within the larger book are smaller ones each containing 613 "pages". The smaller books are then composed of multiple series. Florian will show five drawings from book III. All of the drawings are gouache and collage on brown paper bags, approximately 11 x 11 inches each. Florian lives and works in New York. This is his first show with Gallery Joe.
Xylor Jane's drawings almost always have something to do with numbers. For this show, Jane will create a large drawing directly on the wall in the Vault Gallery illustrating a mathematical series. Though it will be only one drawing, it will become part of a continuing series of work Jane is creating on walls. Philadelphia is one of the places she calls home, along with New York, San Francisco, and this winter, Mt. Holyoke, MA.
Sharyn O'Mara will show five works from an ongoing series called walking drawings. Pen on paper, these drawings were made during shorts walks in the woods while she was in residency at Djerassi in Woodside, CA. Loose or dense, they describe O'Mara's gate and amazingly her mood in the most direct way. O'Mara lives and works in Philadelphia. This is her first show with Gallery Joe.
Michelle Oosterbaan's series of extremely delicate drawings form a thoughtful progression. Almost like a text, each drawing suggests a paragraph composed of disparate elements. Taken together the drawings create a meaningful narrative. Oosterbaan lives and works in Philadelphia.
Sherae Rimpsey who recently moved to Philadelphia, will show 77 drawings composing a complete series of work called Flank Fatigue: The Failure to Preserve or Maintain (2004-2005). Of these abstract drawings Rimpsey says, "As the forms shift, transform and break open a narrative emerges… In part, the work exposes the tension between physical space as it relates to the constraints of working on paper and space as an expanding mutable terrain." This is Sherae's first show at Gallery Joe.
Hadi Tabatabai lives and works in San Francisco and is showing at Gallery Joe for the first time. "In my work, despite the importance of rhythm and proportion, I attempt to arrive at my compositions intuitively. …This intuitive process inspires multiples and series; by going from one piece to the next, I make subtle adjustments, each based on my experience of the previous piece, which moves each new work closer to a place of neutrality."
Susan Tiger, a native Philadelphian, currently lives and works in County Mayo, Ireland. Extending her hand through a window in her home Tiger collects drops of rain on a sheet of paper. She then quickly adds graphite to the dampened areas thus documenting the progression of the rain event. For this show, Tiger has assembled a group of nine drawings from the first to the last drops of a thunderstorm in August, 2005 on the west coast of Ireland.
Series… opens December 16 and runs through February 4, 2006. There will be an opening reception on First Friday, January 6 from 6:30 - 8:30 P.M. Regular gallery hours are Wednesday through Saturday 12 - 5:30, other days by appointment. For additional information, contact Becky Kerlin, 215.592.7752, FAX 215.238.6923 or email mail@galleryjoe.com
Series...
Susan Tiger
Hadi Tabatabai
Sherae Rimpsey
Michelle Oosterbaan
Sharyn O'Mara
Douglas Florian
Annabel Daou
16 Dec - 04 Feb 2006