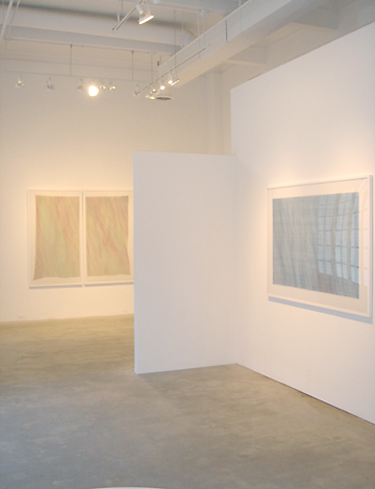 May 21 - July 02, 2005
everything matters
FOR IMMEDIATE RELEASE
May 4, 2005
EVERTHING MATTERS - LINN MEYERS AT GALLERY JOE
Philadelphia, PA – Gallery Joe is pleased to announce the opening of everything matters, a show of drawings by Linn Meyers on Saturday, May 21, 2005. This is Meyers' second solo show with Gallery Joe. Everything matters is showing in the Front Gallery and will run through July 2, 2005. There will be a reception on First Friday, June 3, 2005.
Meyers will show three large drawings including a diptych 6 feet long, as well as a number of smaller works. The drawings are derivations of consciously manipulated systems; the combinations of rhythmic dots, horizontal lines and modulated color washes allude to a prior presence. Layering translucent planes of mylar creates an illusion of space and time. Myers' marks though purposeful and strong, create an atmosphere of serenity and patience.
Linn Meyers lives and works in Washington, DC. She received her BFA in 1990 from Cooper Union in New York and her MFA from California College of Arts and Crafts in 1993. Solo shows in 2005 include an exhibition with Margaret Thatcher Projects, NY and G Fine Art, Washington D.C. Myers has shown extensively throughout the US including the 2000 Pittsburgh Biennial, Miller Gallery at Carnegie Mellon University, Three Rivers Gallery in Pittsburgh, Materia in Scottsdale, AZ, Troyer Gallery in Washington, DC, and George Billis Gallery in New York. She is the recipient of a Pollock-Krasner foundation Grant as well as several prestigious residencies. This is Myers second solo exhibition with Gallery Joe.
Everything matters opens Saturday, May 21 and runs through Saturday, July 2, 2005. The artist will be present at a reception on Friday, June 3, from 6:30 -8:30 P.M. Regular gallery hours are Wednesday through Saturday 12 - 5:30, other days by appointment. For additional information contact Becky Kerlin, 215.592.7752, FAX 215.238.6923, email mail@galleryjoe.com or see us on line at www.galleryjoe.com
everything matters
21 May - 02 Jul 2005