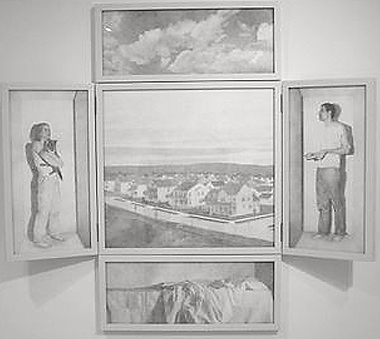 April 01 - May 14, 2005
The Assumption
ROB MATTHEWS – IN THE VAULT AT GALLERY JOE
Philadelphia, PA – Gallery Joe is pleased to present The Assumption, a show of drawings by Philadelphia artist Rob Matthews. The exhibition opens in the Vault Gallery on Saturday, March 26. A reception for the artist will be held on First Friday, April 1, 2005.
The Assumption is Matthews' first solo show with Gallery Joe. The exhibition includes 12 small graphite drawings (7 x 6 inches) and one large composite work. The subject matter is autobiographical, incorporating imagery drawn from biblical themes involving demons, serpents, and communion.
Of his work Matthew states,
My art promotes mythology over history and religion over science….I investigate this subject matter with a deadpan humor. These concepts are not to be feared or overly scrutinized, but rather embraced for their inevitability and ability to evade being disproved…
Recent solo shows in Philadelphia include The Dumbest Man at The Philadelphia Art Alliance, 2004 and Holy Smokes, at Gallery 817 - University of the Arts, 2003. He has also shown at Spector Gallery, Moore College of Art, Project Room, and Arcadia University, Works on Paper 2004, earning the purchase award from the Philadelphia Museum of Art. Matthews began showing with Gallery Joe in January of 2004. His work was included in several group shows last season including Figure Out and Small Works and the Summer Group show.
Matthews was born and raised in Wilson, North Carolina. He earned a BA in painting from the University of Tennessee-Knoxville and an MFA from Virginia Commonwealth University in 1997. Following graduation he moved to Philadelphia where he and his wife Tracy have purchased a home in Northern Liberties.
The Assumption opens on Saturday, March 26 and runs through Saturday, May 14. 2005. The artist will be present at a reception on First Friday, April 1 from 6:30 - 8:30 P.M. Regular gallery hours are Wednesday through Saturday 12 - 5:30, other days by appointment. For additional information contact Becky Kerlin, 215.592.7752, FAX 215.238.6923, mail@galleryjoe.com or www.galleryjoe.com
The Assumption
01 Apr - 14 May 2005