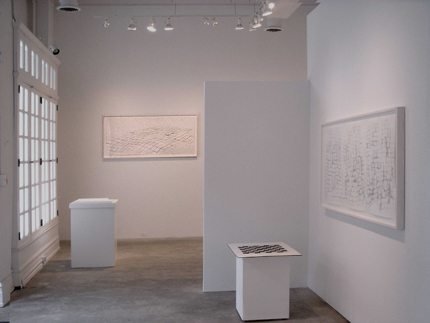 April 01 - May 14, 2005
ideas about the thing and the thing itself
ANNABEL DAOU – AT GALLERY JOE
Philadelphia, PA – Gallery Joe is pleased to present ideas about the thing and the thing itself, the first solo show at Gallery Joe by New York based artist Annabel Daou. The exhibition opens on Saturday, March 26 in the Front Gallery. A reception for the artist will be held on First Friday, April 1, 2005.
In this body of work Daou explores the moment when ideas or concepts shift from the abstract to the concrete, when ideas about a thing and the thing coalesce. Play and games in the form of playing cards, blocks, and game boards are the vehicles Daou incorporates in this exploration. Included in the show are three large drawings (30 x 69 inches) in pencil, ink, gesso, oil paint and tape on paper. In addition, Daou will show several small sculptures.
Daou's recent solo exhibitions include The Last Painting Show at the Conduit Gallery, in Dallas, TX, Striptease, an installation at the Elizabeth Foundation for the Arts, New York, NY and, Fleshpots, at Entwistle Gallery, London. Other shows include neXXt metroplex- Artists in their twenties, The MAC, Dallas, TX, Six Painters, Purdy Hicks Gallery, London and The Book as an Object in Art, Wifredo Lam Center, Havana, Cuba. Daou first showed with Gallery Joe last season in A Three Week Show.
Daou was born and raised in Beirut, Lebanon. She earned her BA from Barnard College, Columbia University in 1989. She lives and works in New York with her husband and son.
ideas about the thing and the thing itself opens on Saturday, March 26 and runs through Saturday, May 14, 2005. The artist will be present at a reception on First Friday, April 1 from 6:30 - 8:30 P.M. Regular gallery hours are Wednesday through Saturday 12 - 5:30, other days by appointment. For additional information contact Becky Kerlin, 215.592.7752, FAX 215.238.6923, mail@galleryjoe.com or www.galleryjoe.com
ideas about the thing and the thing itself
01 Apr - 14 May 2005