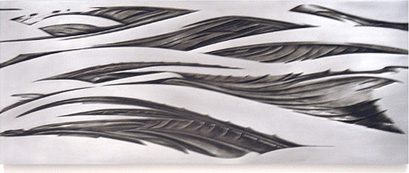 February 04 - March 12, 2005
Below the Surface
STEPHEN ROBIN – BELOW THE SURFACE AT GALLERY JOE
Philadelphia, PA – Gallery Joe is pleased to announce Below the Surface, a show of sculptural reliefs by Philadelphia artist Stephen Robin. Below the Surface opens on Friday, February 4. Below the Surface opens in the Vault Gallery along with Spiral Form Drawings by Mary Judge in the Front Gallery. Both shows continue through March 12, 2005.
In Below the Surface Robin will show eleven shallow relief wall mounted sculptures cast in aluminum. Included will be four works from his Center City PATCO station project in Philadelphia. In addition, he will show seven new works completed for this exhibition. They range in size from 11 x 27 inches to 26 x 66 inches. In all of these works Robin continues to explore natural forms. However, these new works are clearly more abstract than his previous pieces.
Best known for his public work, Robin has completed two projects and begun a third since his last show at the gallery. The newest project, Orange Blossom! is for the Tampa International Airport with architect Albert Alfonso. Expected installation is 2005. The other two projects are A Walk through The Woods for the 13th Street PATCO Station here in Philadelphia commissioned by the Delaware River Port Authority and Memorial Flowers, The War Memorial in Trenton, NJ with architects Vitetta Group, restoration architects. Both projects were installed in 2003.
Robin has been awarded three federal commissions from the General Services Administration Art in Architecture program. Nebraska Grilles, 2003 is for a Federal Courthouse in Omaha. Two twenty-one foot tall bronze grilles depicting sunflowers and goldenrod flank the stairway in the main entrance of the courthouse. Federal Triangle Flowers, 1997 is located in the Plaza of the Ronald Reagan Building and International Trade Center, Washington, DC (James Ingo Freed, Architect). A giant lily and rose rest in the plaza, each thirteen feet long and cast in aluminum. Robin received the GSA Citation Award for Sculpture for his project, juror, Robert A.M. Stern of Robert A. M. Stern Architects. A third federal project Cornucopiae, 1991, is in the Plaza of the Martin Luther King, Jr. Federal Building and U.S. Courthouse, Newark, NJ (architects Howard Horii and Allan Trousdale of Grad Partnership).
Below the Surface opens Friday, February 4, and runs through March 12, 2005. The artist will be present at an opening reception on First Friday, February 4, from 6:30 - 8:30 P.M. Regular gallery hours are Wednesday through Saturday 12 - 5:30, other days by appointment. For additional information contact Becky Kerlin, 215.592.7752, FAX 215.238.6923, mail@galleryjoe.com or www.galleryjoe.com
Below the Surface
04 Feb - 12 Mar 2005