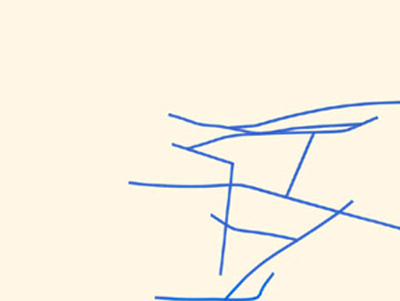 November 05 - December 18, 2004
Drawing as Structure
CHRISTINE HIEBERT – DRAWING ON AND OFF THE WALL
Philadelphia, PA- Gallery Joe is pleased to present a solo show of drawings by Christine Hiebert. Drawing as Structure is Hiebert's second solo show at Gallery Joe and is installed in both galleries. The exhibition opens on First Friday, November 5 and runs through December 18, 2004.
Drawing as Structure is a comprehensive view of the work Hiebert has developed over the past two years. Hanging in the Front Gallery will be seven framed graphite drawings varying in size from 26 x 40 inches to 10 x 10 inches. These delicate diagrammatic drawings suggest the architecture of modern life: complex interiors or elaborate elevations. In addition, Hiebert will create a drawing directly on the wall using blue adhesive tape. Also architectural, Hiebert's wall drawings engage the viewer in a fundamentally different way than her framed work. They are a kind of life-size blueprint which convey a sense of structure that is both deliberate and unstable.
In the Vault Gallery she will hang 10 to 15 unframed works from two series, blue tape drawings on paper and charcoal drawings on paper. The tape drawings are investigations of structure, sometimes precarious or unstable. Though clearly related to her wall drawings they are uniquely distinct works. The charcoal drawings also suggest structures, here using a vocabulary of free-hand lines of varying weight. Many of these drawings were completed while in residency at the Fundación Valparaiso in Mojácar, Spain and contain hints of color suggestive of Spanish architecture and landscape.
All of Hiebert's drawings are about the structure of thought in space. In a recent essay Hiebert writes, "If a house is the physical place where I live, where I feel at home, then my drawings constitute metaphysical houses that allow for the kind of mental living I need to do. That mental living is full of hesitations, fits and starts in my thinking as well as the determination to proceed headlong into something unknown." (Christine Hiebert, 2004)
This is a busy year for Hiebert. Following her show at Gallery Joe she travels to Munich, Germany where she has been invited to do a wall drawing at the Pinakothek der Moderne. Exhibitions in other venues over the past year include, The Drawing Center and Margarete Roeder Gallery in New York, The Drawing Room in East Hampton, NY, and Victoria Monroe Gallery in Boston. Hiebert's last show at Gallery Joe was in 2002.
Hiebert's drawings are represented in numerous public and private collections including the Museum of Modern Art, NY, Arkansas Art Center, Little Rock, AR, Bowdoin College Museum of Art, Brunswick, ME, Fogg Art Museum, Harvard University Art Museums, Cambridge, MA, The Metropolitan Museum of Art, New York, NY, Weatherspoon Art Gallery, University of North Carolina, Greensboro, NC and Yale University Art Gallery, New Haven, CT.
Born in Basel Switzerland, Hiebert grew up in Philadelphia and attended the Philadelphia College of Art where she was awarded her BFA in 1983. In 1986 she received her MFA from Brooklyn College. She currently lives and works in Brooklyn, NY.
Drawing as Structure opens Friday, November 5 and runs through Saturday, December 18, 2004. The artist will be present at a reception on First Friday, November 5, from 6:00 - 8:30 P.M. Regular gallery hours are Wednesday through Saturday 12 - 5:30, other days by appointment. For additional information contact Becky Kerlin, 215.592.7752, FAX 215.238.6923, or email mail@galleryjoe.com. Additional information is available at www.galleryjoe.com.
Drawing as Structure
05 Nov - 18 Dec 2004