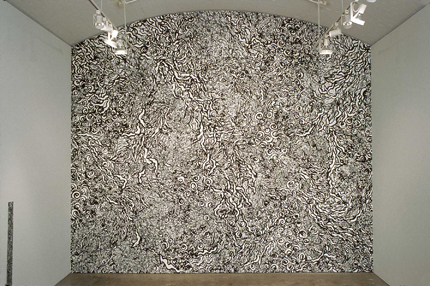 September 05 - October 25, 2003
Drawings and Installation
ASTRID BOWLBY'S DRAWINGS AND INSTALLATION
Philadelphia, PA – Gallery Joe opens the season this year with a show by Philadelphia artist Astrid Bowlby. Drawings and installation opens on First Friday, September 5 and continues through October 25, 2003. Drawings and installation is Bowlby's second solo show at Gallery Joe.
Bowlby will show twelve framed ink drawings in the Front Gallery and a large installation in the Vault Gallery. Both the installation and the drawings are explorations of line, density and repetition.
Using a variety of pen points Bowbly subtly shifts the scale of the line in her drawings to create mysterious illusions of space. Strictly speaking, the drawings have no definable image; however, Bowlby is intrigued with the point at which a drawing begins to conjure up an image in the viewer. Bowlby will show several small works as well as four large very densely worked ink drawings, one measuring 30x38 inches.
In her installations Bowlby employs the same strategy as in her drawings, using repetition, and skillfully shifting scale and density to create an environment that has often been described as "controlled chaos". In this installation Bowlby has limited herself to two basic lines, the spiral and the squiggle.
Of her installations Bowlby states:
Just as it is words layered onto the pages of a book that creates the whole story, it is only through layering and accumulation that significant dimension is achieved in my installations. (Astrid Bowlby, Drawing Papers, 2003, The Drawing Center Publications)
Bowlby will have her debut exhibition in New York City this fall at The Drawing Center. She joins several other installation artists in the exhibition, Internal Excess, running through mid December. Other recent exhibitions include a solo show this past spring at the O.S.P. Gallery in Boston, MA and group shows at ICON Contemporary Art, Brunswick, ME, and the Barry Whistler Gallery, Dallas, TX.
In Philadelphia Bowlby has created installations for the Morris Gallery at The Pennsylvania Academy of the Fine Arts, The Print Center, The Abington Art Center, and the Project Room. She has also shown her installations at The Portland Museum of Art, Portland, ME, The Delaware Center for the Contemporary Arts, Wilmington, DE, Raritan Valley Community College, North Branch, NJ, O.S.P Gallery, Boston, MA and Modest Contemporary Art Projects, Chicago, IL.
In 2002 Bowlby was a recipient of The Leeway Foundation Grant for Excellence in works on paper. She was awarded the Pennsylvania Council on the Arts Fellowship for works on paper in 2000 and 2002. Bowlby received her MFA in sculpture from the Pennsylvania Academy of Fine Arts in 1996, and her BFA in both sculpture and drawing in 1994 from University of Southern Maine.
Drawings and installation opens First Friday, September 5, and runs through October 25, 2003. The artist will be present at an opening reception on Friday, September 5, from 6:30- 8:30 P.M. Regular gallery hours are Wednesday through Saturday 12 - 5:30, other days by appointment. For additional information contact Becky Kerlin, 215.592.7752, FAX 215.238.6923 or email mail@galleryjoe.com or on the web site at www.galleryjoe.com
Drawings and Installation
05 Sep - 25 Oct 2003