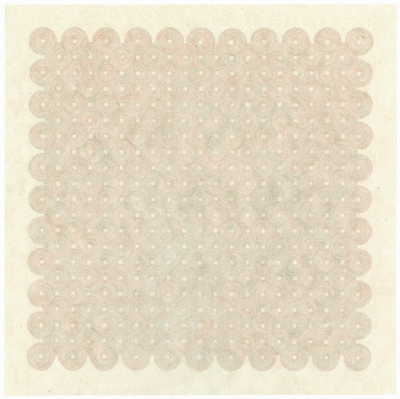 March 15 - April 19, 2003
Drawings
LYNNE WOODS TURNER - DRAWINGS AT GALLERY JOE
Philadelphia, PA – Gallery Joe is pleased to announce a solo show of drawings by Lynne Woods Turner. Drawings opens in the Vault Gallery on Saturday, March 15 and continues through April 19, 2003.
Turner works on translucent paper with pencil and gouache, often drawing on both sides. All of the drawings in this show are in a square format, either 11 x 11 or 13 x 13 inches. Turner's forms are deceptively simple, taking shape by the accretion of lines or forms laid down with exquisite control. Circles form into rosettes suggesting molecular, botanical, or mystical diagrams. Often it is the negative space between the lines that competes for perfect balance. The purity of Turner's drawings suggest universal foundations and elemental building blocks.
Turner received her BFA, '76 and MFA, '77 from the University of Iowa in Iowa City. Since the late seventies she has lived and worked in Portland, Oregon. Drawings is Turner's second solo show with Gallery Joe. Other recent exhibitions include: Recent Drawings at Michael Kohn Gallery, Los Angeles, CA, Components at Elizabeth Leach Gallery, Portland, OR and Works on paper, opening in April, at Greg Kucera Gallery, Seattle, WA. Her works were first exhibited in New York at The Drawing Center in Summer Selections, 1996.
Turner's drawings are in numerous public and private collections including: Fogg Art Museum, Harvard University, Cambridge, MA, Bank of America World Headquarters Galleries, San Francisco, CA, Yale University Museum, New Haven, CT, Seattle, WA, University of Iowa Art Museum, Iowa City, IW.
Drawings opens Saturday, March 15 and runs through April 19, 2003. The artist will be present at an opening reception on Saturday, March 15, from 3:30 –5:30 P.M. Regular gallery hours are Wednesday through Saturday 12 - 5:30, other days by appointment. For additional information contact Becky Kerlin, 215.592.7752, FAX 215.238.6923. mail@galleryjoe.com
Drawings
15 Mar - 19 Apr 2003