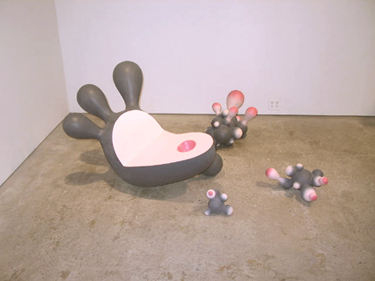 May 03 - June 15, 2002
New Prints and Sculpture
Jeanne Jaffe's Prints and Sculpture at Gallery Joe
Philadelphia – Gallery Joe is pleased to announce the opening of an exhibition of Prints and Sculpture by Philadelphia artist Jeanne Jaffe. Prints and Sculpture opens in the Vault Gallery on First Friday, May 3 and runs through June 15, 2002.
Jaffe's small bronze sculptures and luscious monoprints play off one another in this exhibition. Her familiar forms, refined in both mediums, balance the abstract with the figurative. Jaffe's sculptures with unique patinas in silver, black, and fuchsia incorporate just the right mix of sexual humor, form, and technical skill.
Last summer Jaffe worked with master printmaker, John Erickson during a residency at the Print-Making Council of New Jersey. Over a period of two weeks Jaffe produced a series of thirty monoprints. From this series, we have selected twelve to exhibit in this show for the first time. Jaffe's familiar imagery and lush colors bounce from the prints to the sculpture reinforcing her unique language of forms.
Jaffe is a 1999 Leeway Grant recipient for Achievement in sculpture and a PA Council on the Arts Fellow, '99 and '90. She is a three-time recipient of the Mid-Atlantic Foundation Grant, '98, '95 and '93, a recipient of the Virginia A. Groot Foundation Grant in 1994 and a finalist twice for the Pew Fellowship in the Arts, '98 and '95. Jaffe has attended numerous residencies, including Yaddo in New York, Rutgers Innovative Printmaking in New Jersey, and Yellowsprings in Pennsylvania. She has been an invited guest lecturer at institutions such as the Leopold Hoersch Museum in Duren, Germany, the California College of Art and Craft in Oakland, CA and Pyramid Atlantic in Washington, DC among others.
Jaffe has exhibited widely both nationally and internationally in such places as the Kitchen, A.I.R. Gallery, K&E Gallery, Henry Street Settlement, Dieu Donne Gallery, Hillwood Art Museum, and Snug Harbor Cultural Center in New York, the Delaware Art Museum, and the Carnegie Mellon Art Gallery in Pittsburgh. Internationally, Jaffe has shown her work at The Royal Scottish Academy in Edinburgh, Scotland, Language Plus, in Quebec, Canada and Graf and Shelble in Basel, Switzerland.
Jaffe lives and works in Philadelphia where she is also an Associate Professor of Art at the University of the Arts.
Prints and Sculpture opens May 3 and continues through June 15, 2002. The artist will be present at an opening reception on First Friday, May 3 from 6:30 – 8:30 P.M. Regular gallery hours are Wednesday through Saturday 12 – 5:30, other days by appointment. For additional information contact Becky Kerlin, 215.592.7752, FAX 215.238.6923. www.galleryjoe.com
New Prints and Sculpture
03 May - 15 Jun 2002