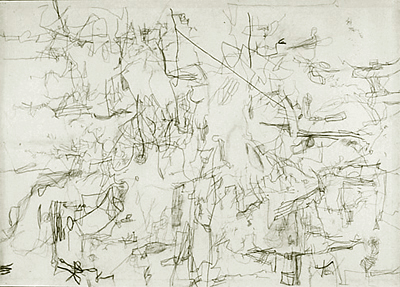 March 15 - April 27, 2002
Drawings
CHIRSTINE HIEBERT - DRAWINGS AT GALLERY JOE
Philadelphia, PA – Gallery Joe is pleased to announce the opening of drawings, a show of work by Christine Hiebert on Friday, March 15, 2002. This will be Hiebert's first solo show with Gallery Joe. drawings will be presented in the Front Gallery and will run through April 27, 2002.
Hiebert works in a variety of sizes, often very large. There will be 9 drawings in the exhibition ranging in size from ten by ten inches to four by nine feet. She works with charcoal on heavy water-stretched paper which she then coats with rabbit skin glue. Hiebert's preparation provides a luscious surface for her to apply charcoal. Delicate wispy lines combine with thick deep lines to create illusions of space and depth, her marks sometimes receding into the paper while at other times appearing to actually float above the surface.
In a recent essay titled, "Christine Hiebert large drawings," Donald Antrim writes, "The drawing is a record of its own creation over time. Marks are added, subtracted and sanded rough: …The artist reacts to interruptions, impulses, thoughts or feelings that are momentary and fleeting….The artist is observer of, and participant in, an environment that is, in the artist's formulation, 'self-generated.'" ("Christine Hiebert large drawings", 2000)
Hieberts's drawings are represented in numerous public and private collections including the Arkansas Art Center, Little Rock, AR, Bowdoin College Museum of Art, Brunswick, ME, Fogg Art Museum, Harvard University Art Museum, Cambridge, MA, The Metropolitan Museum of Art, New York, NY, Weatherspoon Art Gallery, University of North Carolina, Greensboro, NC and Yale University Art Gallery, New Haven, CT. In Philadelphia she is included in the collections of Dechert, Price & Rhoads, Duane, Morris, Hechsher, Federal Reserve Bank of Philadelphia, and Inglis House.
Hiebert first showed with Gallery Joe in Introducing, a group show of drawings in the spring of 2000. Recent solo shows in other venues include the Wynn Kramarsky Gallery, Art Site, and Denise Bibro Gallery in New York, Damasquine Art Gallery in Brussels, Belgium, and The Creative Artists Network in Philadelphia. Hiebert was born in Basel Switzerland. She grew up in Philadelphia and attended the Philadelphia College of Art where she was awarded her BFA in 1983. In 1986 she received her MFA from Brooklyn College. She currently lives and works in Brooklyn, NY .
drawings opens Friday, March 15 and runs through April 27, 2002. The artist will be present at a reception on Friday, March 15, from 5:30 - 7:30 P.M. Regular gallery hours are Wednesday through Saturday 12 - 5:30, other days by appointment. For additional information contact Becky Kerlin, 215.592.7752, FAX 215.238.6923 or email mail@galleryjoe.com
Drawings
15 Mar - 27 Apr 2002