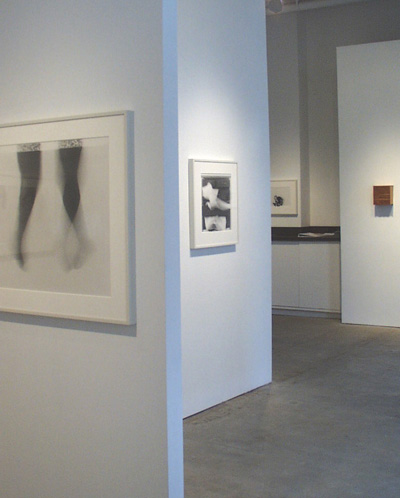 December 07 - January 12, 2002
lip sync
Kate Moran – lip sync at Gallery Joe
Philadelphia – Gallery Joe is pleased to announce lip sync, a solo show of work by Kate Moran. Moran's first solo show with Gallery Joe opens on First Friday, December 7. There will be a reception for the artist on December 7, from 6:30 to 8:30 P.M.
In lip sync, Moran demonstrates her versatility and ability to merge a variety of mediums to create a unified body of work. Included in the show are photographs, drawings of musical scores, and wall-mounted sculpture. Common to all of Moran's work is the exploration of scale and its effect on one's perceptions.
"Are we seeing something small from close up or something large from faraway? We have no reference points. 'I think it's important if the viewers cannot place what they're looking at,' says Moran, 'when they don't know what the context is, how it fits in. I like those uncomfortable feelings…'" (Paula Harper, Kate Moran, Tactus, Miami, August, 2000)
Moran's distinguished career includes solo exhibitions at Steinbaum Krauss in New York, Bernice Steinbaum Gallery in Miami, FL, John Michael Kohler Arts Center in Sheboygan, WI, Olin Art Gallery at Kenyon College in Gambier, OH, List Gallery at Swarthmore College in Swarthmore, PA and The University of North Carolina at Chapel Hill. Solo shows in Philadelphia include the Morris Gallery at the Pennsylvania Academy of the Fine Arts, The Philadelphia Art Alliance, Nexus Gallery, Fleisher Art Memorial, and two shows at The More Gallery.
For excellence in photography Moran was awarded a PEW fellowship in the Arts in 1994, and a Leeway Foundation Grant in 1996. She received Pennsylvania Council on the Arts Fellowships for Works on Paper (2000), Visual Arts (1992/3) and Interdisciplinary Arts (1995/6). In 1996, she completed a residency in the MacDowell Colony followed by a John Michael Kohler Arts/Industry Residency in 1997. Moran's work is represented the many public and private collections including the Philadelphia Museum of Art, Pennsylvania Academy of the Fine Arts, The State Museum of Pennsylvania, and The New Orleans Museum of Art.
Kate Moran was born and raised in Philadelphia. She received her BA from Antioch College, Yellow Springs, OH in 1982 and her MFA from the University of North Carolina in Chapel Hill, NC in 1992. In 1988 she completed the certificate program at the Pennsylvania Academy of the Fine Arts. Moran lives and works in Philadelphia.
Lip sync opens Friday, December 7, 2001 and runs through January 12, 2002. There will be an opening reception for the artist on First Friday, December 7 from 6:30 – 8:30 P.M. For more information contact Becky Kerlin: 215.592.7752, Fax 215.238.6923, mail@galleryjoe.com, or visit our web site at www.galleryjoe.com.
lip sync
07 Dec - 12 Jan 2002