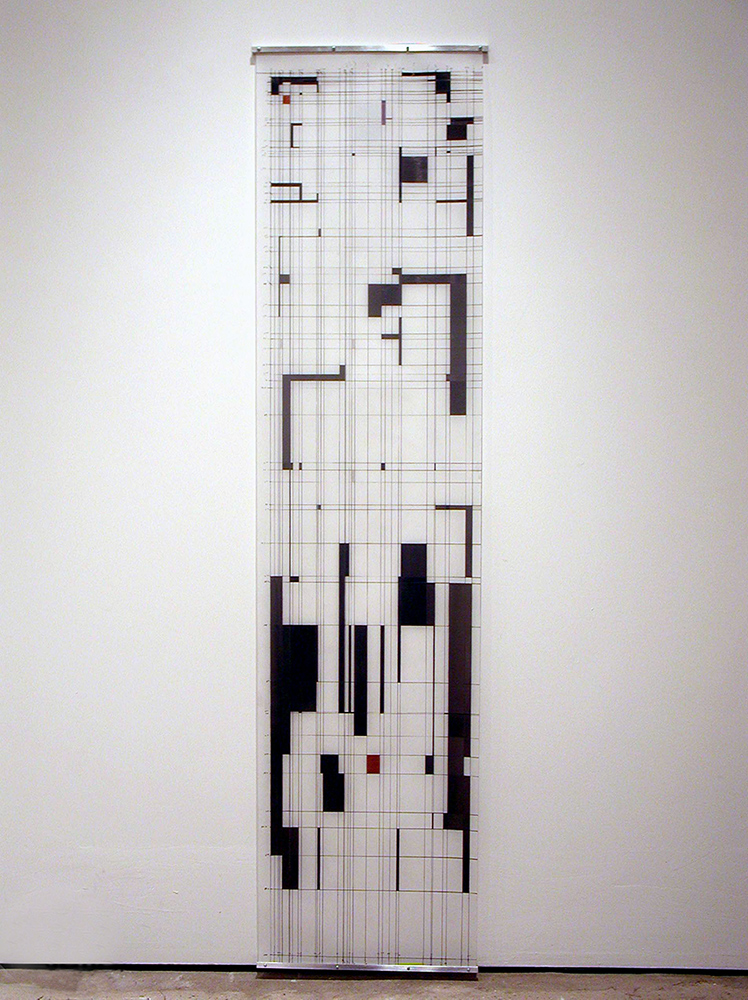 October 19 - December 01, 2001
corporeal musings
Joan Waltemath's corporeal musings – an installation of drawings and sound
Philadelphia – Gallery Joe is pleased to announce a solo show of drawings by Joan Waltemath. Corporeal musings will be shown in the Vault Gallery concurrently with (Un)explained Phenomena, a show of sculpture by Michael Grothusen in the Front Gallery. Both shows continue December 1, 2001. There will be a reception for the artists on Friday, October 19, from 6:30 to 8:30 P.M.
Waltemath is known for her complex works built up on a grid matrix. The play between regular intervals and intuitive invention make her work lively to the eye and secretly referential to music. Fourteen drawings, all long rectangles, hang like Chinese calligraphic scrolls. There is more: A musical accompaniment by Constance Burg, Angela Dryden and Andrew Salcius was created especially for this show and was recorded in the vault. We hear water sticks and cello in this unique collaboration.
Waltemath has exhibited widely both nationally and internationally in venues such as; The Drawings Center, Stark Gallery, and Petra G Bungert in New York, and Center for Contemporary Non-Objective Art in Brussels. Her work has appeared in several landmark drawing exhibitions including, Large-scale Drawings from the Collection of Wynn Kramarsky produced by The Aldrich Museum of Contemporary Art, Ridgefield, CT and Drawing is another kind of language: Recent American Drawings from a New York Private Collection, Harvard University Art Museums, which traveled to four European countries.
Waltemath's drawings are in many public collections including the Fogg Art Museum, Cambridge, MA, National Gallery of Art, Washington, DC, Hood Museum, Dartmouth NH, Yale University Art Gallery, and the Muse de Beaux Arts, La Chaux-de-Fonds, Switzerland. Waltemath was born and raised in Nebraska. She received her BFA from Rhode Island School of Design and her MFA from Hunter College in New York. Since 1997 Waltemath has served on the faculty of The Cooper Union in New York City where she also lives and works.
Corporeal musings opens Friday, October 19, and runs through December 1, 2001. There will be an opening reception for the artist on Friday, October 19 from 6:30 – 8:30 P.M. For more information contact Becky Kerlin: 215.592.7752, Fax 215.238.6923, mail@galleryjoe.com, or visit our web site at www.galleryjoe.com
corporeal musings
19 Oct - 01 Dec 2001