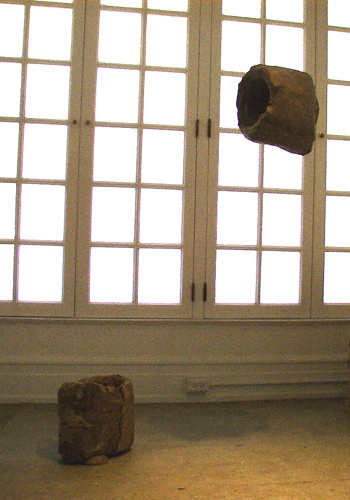 March 17 - April 29, 2000
(stillness)
WINIFRED LUTZ – (stillness) AT GALLERY JOE
Philadelphia, PA- Gallery Joe is pleased to present (stillness), new paperworks by sculptor and installation artist Winifred Lutz. This exhibition is in cooperation with Dieu Donné Papermill, NYC where Lutz created nearly all of the works in a peer-to-peer collaboration with master papermaker Paul Wong. (stillness) opens on Friday, March 17 and continues through April 29, 2000. (stillness) is one of several exhibitions concurrent with the symposium, Discovered Collections: Fiber Art in Museums, April 8, 2000 at the Philadelphia Art Museum.
The translucency of paper is the guiding principle for the works in this exhibition. Sheets with translucent windows reveal ambiguous voids. Cast translucent volumes contain shadows and colors that cannot be defined. Seemingly opaque and heavy masses are discovered actually to be thin paper shells lit by the glow of transmitted light. Paper pieces grow from the wall and hang in free space.
Widely recognized for her site-integrated installation sculpture, Winifred Lutz is also renowned for the work she has done in handmade paper over the past 32 years. She is a primary innovator in the field of hand papermaking as an art form. Her travel in Japan and Korea to observe papermaking methods and tools has given her a perspective on the craft that has allowed her to combine European and Asian techniques. These hybrid processes have been the source of countless techniques for paper casting, sheet forming and other methods directly related to creating art in this medium. She has lectured nationally and internationally on her unique casting methods.
Lutz's work has been exhibited in Europe, Asia, North and South America. and in Israel. Past exhibitions include installations at the Brooklyn Museum Grand Lobby, Brooklyn Bridge Anchorage, Institute of Contemporary Art of the University of Pennsylvania, Historic Eastern State Penitentiary in Philadelphia and Contemporary Arts Center in Cincinnati. Her permanent public projects include the garden at the Mattress Factory in Pittsburgh and a memorial for the Pennsylvania Recipients of the Congressional Medal of Honor in Harrisburg (with artist Stacy Levy). Currently, Lutz is working on two outdoor commissions, one for the Center of Disease Control in Atlanta and another for the New Schuylkill River Park (with Stacy Levy) in Philadelphia. Winifred Lutz has been a recipient of many awards including the NEA Visual Arts Fellowship, the PEW Fellowship in the Arts, and Creative Time Project Grant. She lives and works in Pennsylvania and is currently Professor of Sculpture at Tyler School of Art of Temple University in Philadelphia. In January, 2000 she was named Laura H. Carnell Professor of Painting, Drawing, and Sculpture.
Lutz's residency at Dieu Donné was supported in part by the National Endowment for the Arts and the New York State Council on the Arts. This exhibition was seen at Dieu Donné in New York in March,1999 then traveled to the Sheehan Gallery of Whitman College, Walla Walla, Washington in January, 2000. (stillness) at Gallery Joe features several new works not seen in previous exhibitions. An illustrated catalog with an essay by art critic Janet Koplos is available.
(stillness) opens Friday, March 17 and runs through April 29, 2000. The artist will be present at an opening reception on Friday, March 17 from 5:30 – 7:30 P.M. Regular gallery hours are Wednesday through Saturday 12 – 5:30, other days by appointment. For additional information contact Becky Kerlin, 215.592.7752, FAX 215.238.6923.
(stillness)
17 Mar - 29 Apr 2000