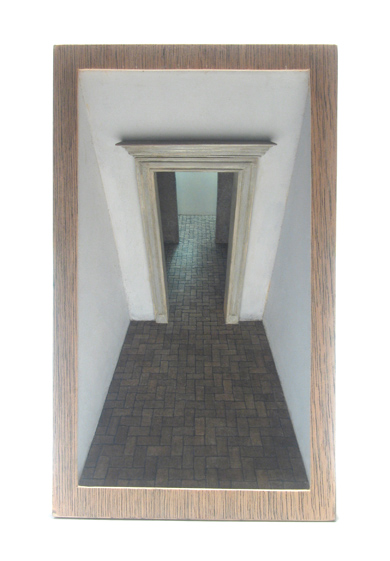 November 17 - January 05, 2013
Down
FOR IMMEDIATE RELEASE
October 29, 2012
Lynne Clibanoff's Down at Gallery Joe
Philadelphia, PA – It is with great pleasure that Gallery Joe announces Down, a solo show of new work by Lynne Clibanoff. Down opens in the Vault Gallery on Saturday, November 17 and runs through January 5, 2013. The opening reception will take place on Saturday, November 17 from 4-6 PM.
In her third solo show at Gallery Joe, Clibanoff again invites the viewer to peer into tiny rooms along mysterious hallways and imagine what is to be found behind doors and around hidden stairways. However, in this new series of work all of the stairways go down. Through tricks of perspective Clibanoff creates spaces that appear to recede through the floors of the rooms going beyond the bounds of the work itself.
Clibanoff will present 14 boxes, a number of cigar boxes, as well as paper constructions. Some of the boxes allow exterior light to penetrate the interior, while others do not. Some are enclosed, while others expose the exterior construction of the boxes. All of the works are new, completed in the past year.
Clibanoff has exhibited nationally in such places as the Whitney Museum of American Art at Phillip Morris, NY, Library of Congress, National Collection of Fine Arts, Washington, DC, Chrysler Museum, Norfolk, VA and The Noyes Museum in Oceanville, NJ. Her work is in numerous public and private collections including The Library of Congress, Washington, DC, Museum of Modern Art, NY, and Yale University Art Gallery, New Haven, CT.
Down opens on November 17 and runs through January 5, 2013. The artist will be present at an opening reception on Saturday, November 17 from 4–6 PM. Regular gallery hours are Wednesday through Saturday 12 - 5:30, other days by appointment. For additional information call 215.592.7752 or visit our website at www.galleryjoe.com
Down
17 Nov - 05 Jan 2013