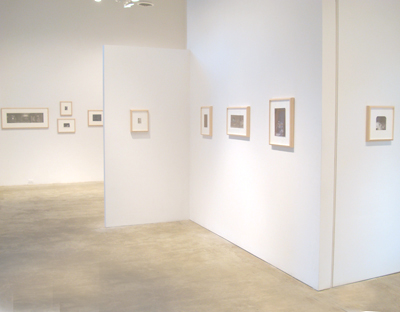 November 01 - December 20, 2008
From The Inside Looking Out: Charles Ritchie
FOR IMMEDIATE RELEASE
October 10, 2008
FROM THE INSIDE LOOKING OUT: CHARLES RITCHIE EXHIBITION AND GALLERY TALK AT GALLERY JOE
Philadelphia, PA – Gallery Joe is pleased to present a major exhibition of drawings by Charles Ritchie. From The Inside Looking Out, opens on Saturday, November 1 and continues through December 20, 2008. Ritchie will speak about his work at 3:30 on November 1 prior to the opening reception. A catalogue accompanies this exhibition.
From The Inside Looking Out is a comprehensive selection of 50 drawings, spanning Charles Ritchie's 30-year career. Many of the drawings are being exhibited for the first time. With the exception of one sheet that is 18 x 37 inches all are small works, averaging 4 x 6 inches. Ritchie's subject is the world that rests within reach, his home, his studio or the yard outside his window.
In addition to the drawings, Ritchie will show several journals. Since 1977, he has recorded images and notes in a series of sketchbook/journals that now number 131 books. These volumes are both settings for intimate watercolor studies as well as dream repositories. The sketches and texts inform a broad program of drawings created serially and independent of the books. A number of these drawings will appear in this exhibition.
The newest series of works features images combined with inscribed texts. These works are on sheets of paper the size of the artist's journal pages and explore Ritchie's creative workspace centering on the table at the window where he paints. The inscriptions begin as pencil notations, paralleling the work as it develops. These graphite inscriptions are generally obliterated in the image making process as the writing often follows jags of Ritchie's imagination through recording dream fragments and other experiences. The final inked transcription is usually a refinement of dreams originally recorded in the journals.
All of the drawings in the exhibition are constructed over extended periods; months, even years and are limited in their use of color. While early works usually employed black watercolor and/or ink, in later works black is virtually always mixed from other colors in order to achieve tonal flux. The primary medium for all works on view is watercolor, however use of graphite and gouache has been increased in more recent drawings as an experiment in reflectivity, transparency, and opacity.
Ritchie's work is included in the collections of The Baltimore Museum of Art, Baltimore, MD, Fogg Art Museum, Harvard University Art Museums, Cambridge, MA, The Metropolitan Museum of Art, NY, National Gallery of Art, Washington, DC, Philadelphia Museum of Art, PA, Virginia Museum of Fine Arts, Richmond, VA, and Yale University Art Gallery, New Haven, CT. He is the recipient of the Franz and Virginia Bader Fund, 2005 and five Maryland State Arts Council's Individual Artist Awards. Ritchie received his graduate degree in painting from Carnegie Mellon University in Pittsburgh. He lives and works in Silver Spring, Maryland.
From The Inside Looking Out opens on Saturday, November 1 and runs through Saturday, December 20, 2008. The artist will be speak about his work at 3:30 on November 1 prior to his opening. The opening reception will be from 4-6 pm on November 1. Regular gallery hours are Wednesday through Saturday 12 - 5:30, other days by appointment. For additional information contact Becky Kerlin, 215.592.7752, FAX 215.238.6923, mail@galleryjoe.com or www.galleryjoe.com.
From The Inside Looking Out: Charles Ritchie
01 Nov - 20 Dec 2008