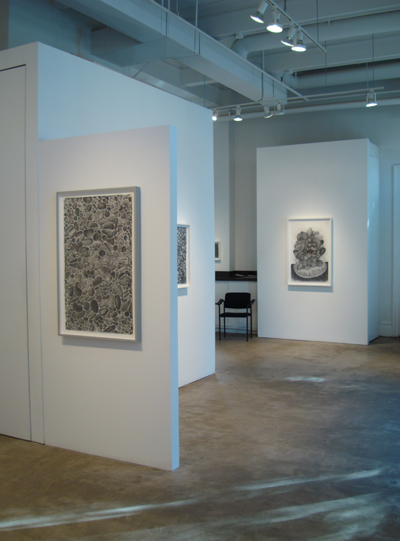 March 07 - April 26, 2008
Head of Girl (In Play)
JAMES NELSON – HEAD OF GIRL (in Play) AT GALLERY JOE
Philadelphia, PA- Gallery Joe is pleased to announce the first solo show in Philadelphia by James Nelson. Head of a Girl (in play) opens on Friday, March 7 and continues through April 26, 2008. This show appears in the Front Gallery and runs concurrently with a show of drawings by Christine Hiebert in the Vault Gallery.
Nelson will show twelve charcoal drawings in various sizes. While he continues to work on delicate rice papers, those familiar with his drawings will see major changes. This body of work is more consciously abstract than his earlier process related pieces. There is more concentration on subject matter with obvious references to representation. However, a clear visual history is present, particularly in several of the all over drawings.
"For approximately two years I have made charcoal drawings that were loosely grouped together under the title "Head of a Girl". Traditionally used to designate drawings of unidentified female sitters, the title was recognition of the physiological elements of anonymous portraiture that had emerged in my work. With a focus on the backs of heads, hair became an important emblem of identity, an abstract playground of expression and a fetish of desire.

Head of a Girl (in play) combines portraiture with allover abstraction taking the elements developed under "Head of a Girl" and tossing, re-ordering, magnifying, separating, blowing up, and examining them in order to play with their abstract nature and form something new. "

— James Nelson, 2008
The artist will be present at a reception on First Friday, March 7, from 6:00 - 8:30 P.M. Regular gallery hours are Wednesday through Saturday 12 - 5:30, other days by appointment. For additional information 215.592.7752 or email mail@galleryjoe.com. Also visit the website at www.galleryjoe.com.
Head of Girl (In Play)
07 Mar - 26 Apr 2008