Astrid Bowlby "That Music Always Round Me" at the Pennsylvania Convention Center
posted: 3/20/18
"That Music Always Round Me" consists of thousands of ink and brush drawings cut out and glued together. A site-specific commission, this 100-foot-long collage functions as an architectural frieze in the contemporary space of the Convention Center. Bowlby took inspiration from the decorative motifs across Broad Street in the Pennsylvania Academy of the Fine Arts, where she received her graduate degree in 1996. An avid gardener and reader, Bowlby used many different resources to develop her imagery. She drew from observation in her own garden as well as from collected and dried plant material. She used contemporary research tools such as Pinterest to gather visual information on fabric and wallpaper design, garden design, and how other artists use floral motifs in their work. She also referred to books on botany, plant identification, and botanical illustration.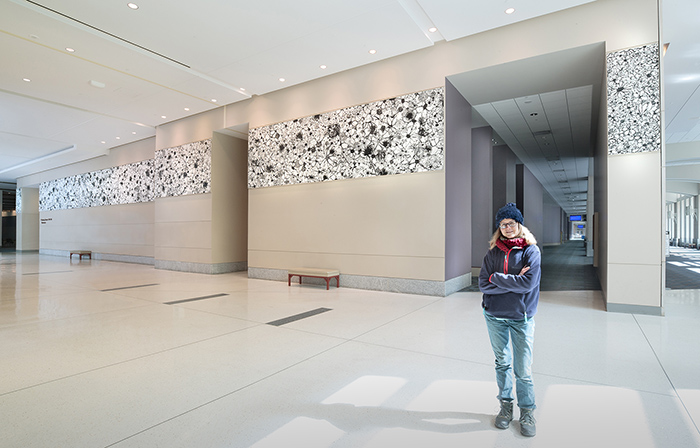 Eithne Jordan in Artforum
posted: 3/2/18
Declan Long reviews Eithne Jordan's solo exhibition at Dublin City Gallery The Hugh Lane. "Many of her best paintings catch moments of fleeting calm within the routine commotion of urban experience: waiting alone at a deserted subway station, passing through sleepy suburban housing projects, walking along sparsely lit backstreets late in the evening without another soul in sight."
Marilyn Holsing at the Hudson River Museum
posted: 2/12/18
Marilyn Holsing's The Pursuit of Love is included in the exhibition, The Neo-Victorians: Contemporary Artists Revive Gilded-Age Glamour, February 10 - May 13, 2018 at the Hudson River Museum.