Annabel Daou wins prize at Cairo Biennale
posted: 12/14/10
Annabel Daou has created a site-specific, time-based installation entitled from where to where, which throws into confusion concepts of time and place—indicators essential to how art is traditionally selected, organized, identified, contextualized, displayed, and understood. In New York and Beirut, Daou asked strangers: Where are you now? Where are you coming from? and Where are you going to? and "mapped"/wrote down the responses she received. The piece is accompanied by a sound installation, created by Daou and Greta Byrum, which incorporates the same answers to the same questions, in the same languages, recorded simultaneously. The piece's title makes it an inquiry into how identity is asserted, undermined, and/or reconstructed through the ongoing exchange between "location" and state of mind. Annabel Daou is of Lebanese descent and is based in New York, New York.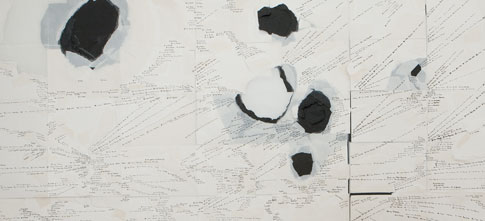 Gallery Joe at PULSE Miami
posted: 11/13/10
Gallery Joe will be at PULSE Miami December 2-5, 2010.
Astrid Bowlby on SNAG
posted: 11/13/10
Astrid talks about her installation SNAG, at the Michener Museum through January 2, 2011
new talent 2010 opens November 20th
posted: 11/13/10
Opening reception for new talent 2010 on Saturday, November 20th from 4-6pm. Martin Brief, Richard Garrison, Molly Heron and Mia Rosenthal will all be present. Show runs through December 18th. Gallery Joe will be closed November 14th-20th while the show is installed.
Emily Brown, Rob Matthews and Mia Rosenthal in Philadelphia Inquirer
posted: 11/13/10
Emily Brown, Rob Matthews and Mia Rosenthal were interviewed for 'Narcissus in the Studio,' currently up at the Pennsylvania Academy of the Fine Arts.
"Light" reviewed in The Philadelphia Inquirer
posted: 10/15/10
Edith Newhall reviews Astrid Bowlby's "Light"
Allyson Strafella in Courier at University at Albany
posted: 10/7/10
Courier runs from October 5 through December 4, 2010, with artists Leona Christie/Gavin Christie, Daniela Comani, Lee Etheredge IV, Ann Hamilton, William Kentridge, Matt Liddle, Elena del Rivero, Allyson Strafella, Ignacio Uriarte and Xu Bing. Curated by Corinna Ripps Schaming. Featuring works that explore the physical, communicative, and iconic properties of the typewriter.
Rob Matthews, Emily Brown, Samantha Simpson and Mia Rosenthal at the Pennsylvania Academy of the Fine Arts
posted: 9/22/10
The Pennsylvania Academy of the Fine Arts (PAFA) presents Narcissus in the Studio: Artist Portraits and Self-Portraits, an exhibition exploring the complex, witty, and unexpected nature of artistic identity, on view October 23, 2010 – January 2, 2011. Consisting of more than 100 works, including paintings, sculpture, photographs, and works on paper, Narcissus in the Studio celebrates one of the important strengths of PAFA's permanent collection while revealing the creative process in an interactive studio within the gallery. "Among the most beloved images in our museum are self-portraits, portraits of artists, and depictions of studio life," remarks Robert Cozzolino, PAFA's Curator of Modern Art. "These iconic paintings are part of an extraordinary collection of revealing and historically important artists' portraits that span the entire history of American art."
Mark Sheinkman in Berlin
posted: 9/20/10
Kupferstichkabinett (National Collection of Drawings & Prints) presents "The Esprit of Gestures: Hans Hartung, Informel and Its Impact" and includes works by: Wols, Pierre Soulages, Jackson Pollock, Karl Otto Götz, Emil Schumacher, K.R.H. Sonderborg, Salvador Dalí, Günter Brus, Maria Lassnig, Emilio Vedova, Peter Brüning, Cy Twombly, Willem de Kooning, Mark Tobey, Hana Usui, Emil Schreiber, Chris Newman, Gabriele Basch, Katharina Hinsberg, Günther Förg, Damien Hirst and Mark Sheinkman.
Astrid Bowlby at the Pennsylvania Academy of the Fine Arts
posted: 9/20/10
October 23, 2010 - January 2, 2011 Curated by Julien Robson, Curator of Contemporary Art Employing ideas about similarity, copying, repetition, reproduction, seriality, transformation, variation, and forgery, Same:Difference explores connections between varied groups of works that range across American art history from Benjamin West to Andy Warhol and beyond. Considering the ways that artists use material and conceptual processes to diverse ends, the exhibition draws on PAFA's collection and augments it with works from Philadelphia artists and private collections. Among others, Same: Difference presents works by Leonard Baskin, Astrid Bowlby, Diane Burko, Colin Foley, Robert Lostutter, Quentin Morris, Elizabeth Osborne, Huston Ripley, Richard Ross, Edward Savage, Andy Warhol, Bill Walton, Benjamin West, and John Zinsser.
Annabel Daou at Venice Biennale and Cairo Biennale
posted: 9/2/10
Annabel Dao will be representing Lebanon with three other artists in the Venice Bienniale in 2011, as well as representing the US in the Cairo Biennale. UPDATE: As of March 8th, Lebanon has cancelled its participation in the Venice Bienniale
Roberta Fallon reviews It Fills Us. We Arrange It.
posted: 7/5/10
June 13, 2010 on the Artblog
Pew Center produces video of Rob Matthews
posted: 7/5/10
As part of the Pew Fellowships, a video was produced of Rob speaking about himself and his work.
It Fills Us. We Arrange It. reviewed in Philadelphia Inquirer
posted: 7/5/10
May 23, 2010, Edith Newhall
Sabine Friesicke awarded a Pollock-Krasner Grant
posted: 3/19/10
Gallery Joe is delighted to announce that Sabine Friesicke has been awarded a Pollock-Krasner Grant for 2009-2010. The Pollock-Krasner Foundation was established in 1985 to assist individual working artists of merit with financial need through the generosity of Lee Krasner (1908-1984), a leading abstract expressionist painter and widow of Jackson Pollock. Congratulations Sabine!