Emily Brown awarded a grant from the Independence Foundation
posted: 10/25/07
This past summer Emily Brown was awarded a grant from the Independence Foundation for $10,000. This arts grant will fund a specific project for her in the coming months. Congratulations Emily!
Astrid Bowlby selected for The Space Program
posted: 9/6/07
Astrid Bowlby is the recipient of the Marie Walsh Sharpe Art Foundation Space Program for 2007-2008. The program provides free studio space for visual artists for a year in New York. Congratulations Astrid!
Michelle Oosterbaan: Great Rivers Biennial Grant Winner
posted: 9/6/07
MIchelle Oosterbaan is a recipient of the 2008 Great Rivers Biennial. This $20,000 grant is awarded to three emerging artists by the Contemporary Art Museum of St. Louis and the Gateway Foundation. Congratulations Michelle!
Subtle but exact drawings
posted: 4/26/07
Lynne Woods Turner Philadelphia Inquirer review
Annabel Daou in April issue of ARTnews
posted: 4/13/07
Annabel's drawing (2:00 am – 3:00 am), 2006 is the lead image for "The New abstraction" a feature by Barbara A, McAdam. This drawing is from a series of 12 works included in a book of hours, Annabel's second solo show at Gallery Joe, January, 2007.
There is a nice little interview with Annabel in the article as well.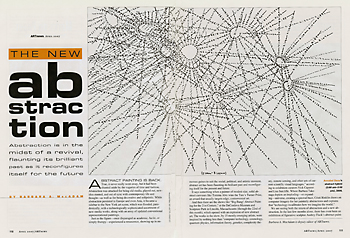 Astrid Bowlby awarded PA grant
posted: 3/24/07
Astrid Bowbly is a recipient of a 2007 Pennsylvania Council on the Arts Fellowship for sculpture and installation.
Congratulations Astrid!!
Mark Sheinkman
posted: 3/24/07
Mark Sheinkman's work is featured in the April issue of Architectural Digest.
Christine Hiebert at MOMA
posted: 3/24/07
Christine Hiebert has a large drawing in the show Live/Work: Performance into Drawing, curated by Connie Butler at the Museum of Modern Art, NY. (3rd floor through May 21)
Michelle Oosterbaan and Rachel Perry Welty at The Drawing Center
posted: 2/12/07
Gallery Joe is thrilled to have two artists in this month's show at The Drawing Center in NY. Michelle Oosterbaan and Rachel Perry Welty are both having their New York debuts. Levity includes seven drawing artists from all over the US and runs though March 31, 2007.